Shining Buddy
Pixel Artist
Messages

60
Reaction score

28
Points

18
I made a new khris sprite but the palette wont work. I first used colors I manually created in the editor, and this happened.

This is what it looks like in the editor





And in the game it looks like this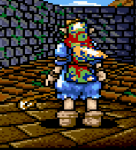 I thoght meybe the editor let me use colors that the game couldn't actually reproduce, so I used only colors from other working sprites in the game, but the same happens.
Does anybody knows what is wrong?


EDIT: I think I solved it, it seems a couple colors from the original khris palette were coming back to their exact color place in the palette, I put those colors in the original place looking at the original khris palette, and tried to use them. I used three of them, and sacrificed one more color, now it works. Tomorrow I will post que finished sprite.
Last edited: