Shining Supporter
Admin
Moderator
Messages

325
Reaction score

92
Points

28
A Promoted Hanzou design has been on my to-do list for so long now; I'd love to see him given the Promoted look and feel that he deserves. I've been using the Resurrection of Dark Dragon GBA remake artwork as inspiration for designs for other characters, but I have to say that I'm not a big fan of his Promoted set in the remake. For reference: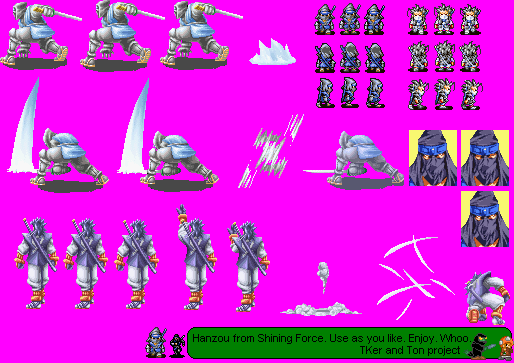 So much of this design is... not to my interpretation of the character, let's say. And his Idle poses do not lend well to the original SF1 style, and I think it would require employing a little creative thinking to get this design to look good in any fashion. But I wanted to hear what you guys think. Would this be a suitable base-look for Promoted Hanzou, or should we try thinking a little more outside the box? I have done some minor research into ninja (plural) and their hierarchy and how an 'elite' ninja might adorn him or herself, but I think it's important to get as many people as possible involved in his design, as I don't really want to revisit this again (because I will probably end up putting if off for another two years!)
Also, stay tuned for the complete Promoted Musashi sprite set based on his GBA remake portrayal to be released very soon. I think Dan really outdid himself:
Edit: Completed forgot to reference my notes before posting this. I now recall considering utilising
Joe Mushashi
's outfit design from Revenge of Shinobi, Shinobi III, et al. I believe that I also later decided to give Joe Mushashi his own sprite set. But what do you think, would a Joe Musashi-style outfit for Hanzou be a fitting homage?​
Last edited: