Shining Supporter
Admin
Moderator
Messages

345
Reaction score

102
Points

43
These suggestions are aimed primarily for the Force members animation screens, but perhaps some may be applicable for the enemy animations screen, also.
- Sprite preview
To help show that you are indeed editing the correct sprite. And ideally if the sprite preview could animate the two idle frames that would be even better!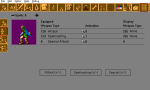 - Remember Animation # and Sprite # place when switching between the two screens
At present, switching between the 'Edit Force Members screen' and the 'Assign Force Animation' screens results in you losing your # position and returning to the #0 position.
- Attack (#128) set added by default
With 255 as the default Display Weapon type.
- Quick search/snap to Animation # screen
(see screenshot above)
Clicking the magnifying glass will whizz you straight over to the corresponding animation set.
- New Animation to assign 'Effect: -1' by default
The readme specifies that '-1' should be assigned to a new animation by default, but it would appear that it is producing '1' instead.
- Rename 'Length' to 'Duration' and suffix 'milliseconds' (?) to the input value
-
Replace '?' with 'Special Initialisation Frame' (?)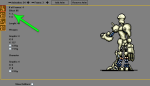 Thank you to
@Erikin84
and
@Lock It Lynx
for explaining what this value does.
Last edited: